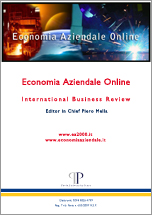 Benefits of Open Access
For Authors:
Gain increased visibility and ultimately a citation advantage.
For Readers:
Keep abreast of the professional advancement free of charge.
For Institutions:
Minimize the scientific investment on knowledge access.
For Academia:
Share the knowledge faster and on a larger scale;
Accelerate the development of a given field.
For Society:
Minimize the cost and time of information exchange;
Speed up the process of converting scientific results to productive force;
Enable the public to benefit more rapidly from the advance of science and technology;
Narrow the gap between the developed and developing countries.
Announcements
AUTORIZZAZIONE ALL'USO DEI FILE PDF PER FINI DI ABILITAZIONE SCIENTIFICA NAZIONALE

Si autorizzano gli Autori dei prodotti della ricerca pubblicati nel periodo 2002-2012 a utilizzare i file PDF per il caricamento delle pubblicazioni sul sito Cineca.

Editor-in-Chief

Posted: 2012-11-08

Economia Aziendale Online - Back Issues

CLICK HERE to access Economia Aziendale Online back issues (link: http://ea2000.unipv.it/)

Posted: 2010-02-04
More...