Rivista di Musicologia del Dipartimento di Musicologia e Beni Culturali dell'Università degli Studi di Pavia.
URL: philomusica.unipv.it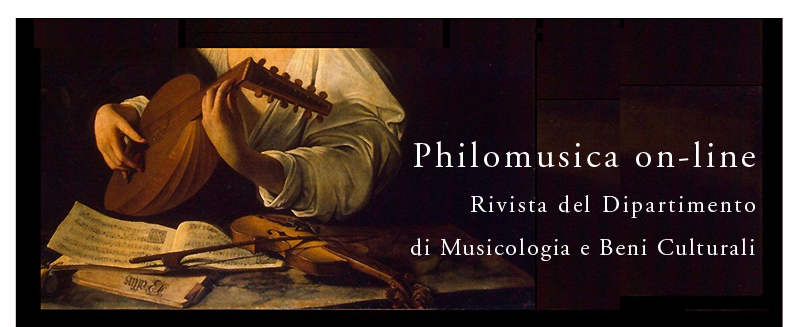 Direttore responsabileComitato scientifico

Maria Caraci Vela
Marco Mangani
Angela Romagnoli
Federica Rovelli
Daniele Sabaino
Francesco Saggio
Rodobaldo Tibaldi
Pietro Zappalà

Advisory Board

Margaret Butler
Michele Calella
Linda Cummins
Pascal Decroupet
Emanuele Senici
Philippe Vendrix

Redattori

Francesco Saggio (redattore capo)
Giacomo Pirani

Philomusica on-line è un periodico musicologico aperto, nato nel 2001 con l'intento di dar conto delle attività di ricerca del Dipartimento di Musicologia e Beni Culturali dell'Università di Pavia e per offrire uno spazio privilegiato allo scambio e alla collaborazione tra studiosi dell'ambito musicologico.
La rivista pubblica saggi, recensioni e altri interventi in lingua italiana, francese, inglese, spagnola e tedesca.
La rivista è stata inclusa in fascia A nelle liste di valutazione dell'ANVUR per l'Area 10 – Scienze dell'antichità, filologico-letterarie e storico-artistiche, settore C1.

---

Philomusica on-line is an open access musicological journal aiming to present the research activities of the Department of Musicology and Cultural Heritage of the University of Pavia and offer a space of exchange and collaboration between musicologists from all over the world.
The journal accepts proposals of essays and reviews in Italian, French, English, Spanish and German.
The journal was included by the Italian "Agenzia Nazionale di Valutazione del Sistema Universitario e della Ricerca (ANVUR)" in the "A-Class" list of scientific journals for the Area 10 – Antiquity, Philology, Literature and Art History, sub-area C1.